Press brake tools for sheetmetal bending
Our company specialized in supplies of press brakes tools for various press brake models and manufacturers.
We are able to offer any standard or special types of tools (punches and dies, hemming sets, stamps, punchholders, die holders, adapters, die inserts, radius tooling etc.) for main press brake systems such as Promecam–EURO Style, Trumpf-WILA, Beyeler etc. We can supply rich selection of standard shapes or to make any special tools under request of customer including the length of 6000-8000 mm in one piece.
If necessary, together with the offer we are able to make our recommendations, provide bending sequence for the part of the customer, calculate bending charts, verify the necessity to use special tools and other sales and service support.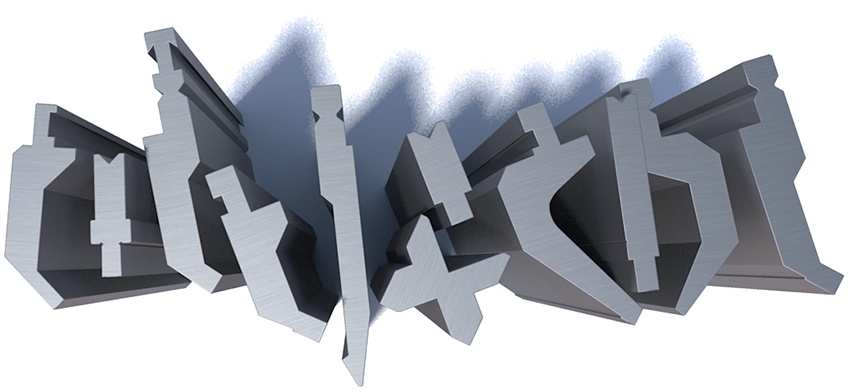 Press brake bending is the most general industrial process today to obtain the controlled deformation of the sheetmetal in cold with the use of press brake power (hydraulic or electric system) to obtain necessary force with the travel of the beam together with the upper punch. Today, press brake machinery is used for every workshop and jobshop connected with sheetmetal fabrication.
According to the geometry of the bend and form of bending tools it is possible to get the required deformation with the desired angle and shape. We are able to provide tools for any press brake technical process: air-bending, coining or stamping and bottom bending. According to the clamping part of tools we can support most of the used press brake machines in the world. Together with standard geometries customized tooling is also possible to supply.
Press brake tools production
Possibility to store lots of standard positions of bending tools with the marking and cutting before shipment allows to provide good delivery time even for big orders. All our bending tools are produced in Italy with the use of CNC machinery and quality control during different stages of production. For bending tools only high quality steels C45 or 42CrMo4 are used. The precision grinding allows the best contact with the material. All our tools pass the temperature treatment till 55/60 HRC for long life use and effective protection against damages.
Together with the tooling we can supply the .DXF model for quick import to the CNC-library of press brake.
Supplies program:

Straight classic punches

Gooseneck punches

Special geometries punches

T-form dies

Standard V-dies

Multi-V dies

Punchholders, clamps, intermediates

Special fast clamping punchholders

Die holders and fixing parts

Adapters for other systems, elongation adapters

Tool sets for flattening / hemming

Tool sets for radius bending

Tool sets for Z-bends and other coining

V-opening adjustable dies
Supported machines according to the systems*
Press brake tools TRUMPF-WILA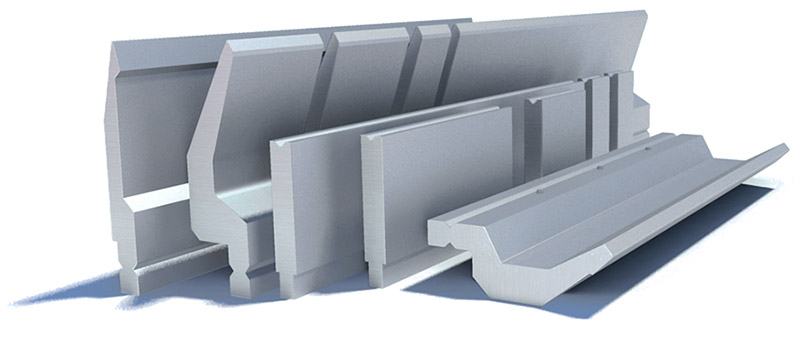 Bystronic-Hammerle, Durma, EHT, Finn-Power, Jordi, Gizelis, LVD, Trumpf, Prima Power, RICO PRCN, Safan-Darley, STR, Ursviken etc.
We supply solid pieces 100, 200, 300, 500 mm; section set (cutted) 550 mm and complete sets for the full length of your press brake according to the customised pieces or the same as original tooling.
Press brake tools Promecam–EURO Style

Adira, AM Machinery, Amada, Axial, Baykal, Boschert, Bystronic, CMU, CoastOne, Colgar, Colly, Gilardi, Guifil, Dener Makina, Deratech, Durma, Edward Pearson, Ermaksan, Femas, Fratelli Farina, GADE, Gasparini, Gecko, HACO (Atlantic), Hammerle, Hesse, Hezinger, IMAL, Ironmac, ITEK, Jean Perrot, Jodri, KAAST, Karmet, Kingsland, Knuth, Mecos, MVD, Nargesa, OMAG, Peliant, Rico, Salvagnini, Schiavi, SMD, STR, Tabama, Teda, Vicla, Vimercati, Warcom, Yangli, YSD etc.
We supply solid pieces 415, 835 mm; section set (cutted) 805 mm and complete sets for the full length of your press brake.
Press brake tools Beyeler-Bystronic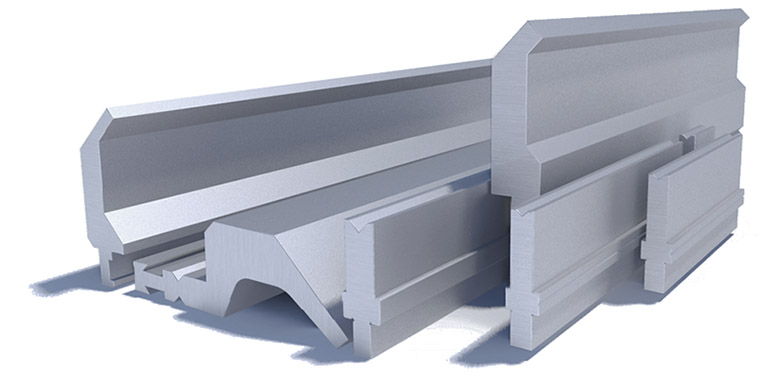 Bystronic-Beyeler (Euro-A, RF-A, R, S), Edwards Pearson, Safan, Bystronic, Beyeler etc.

We supply solid pieces 100, 500, 1000 mm; section set (cutted) 1100 mm and complete sets for the full length of your press brake.
* Just for the information, please contact us with the reference to your model. Please note that not all the manufacturers are listed so you can verify in particular about your press brake.

Under request we are able to supply also the bending tools for press brakes for other tooling systems such as American style, original LVD, original Colgar, original Weinbrenner, original EHT and others. Please contact us for more details.
Together with the tooling we can supply a lot of additional positions such as special punchholders for quick release of punches, variable dies for big opening, storage boxes for tooling and much more.
Contact us
You can reach us with the following coordinates:
Via B. Crespi, 19, MAC 4 – 4°Piano
20159, Milano (MI), Italy
Tel. +39 0280886585
Main e-mail: info at precitools.it
Send us a message