PRESS BRAKE TOOLING SYSTEM - MAIN DETAILS AND DIFFERENCES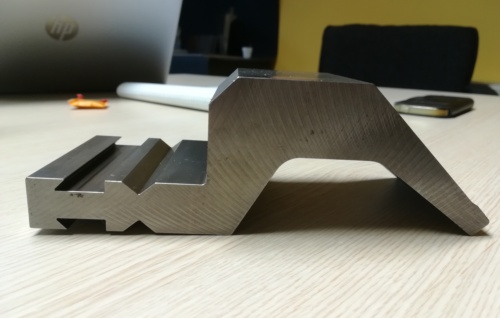 Let's speak few words about press brake tooling system i.e. upper part of the punch and lower part of the die at the area of clamping. Mainly they could be called as tangs.
There are different systems available on the market if we will talk about the coverage there are 3 main ones - Promecam or EURO or European Style (main system in Europe and Asia), Trumpf-WILA (main clamping system of Trumpf company (Germany) for Trumpf machines, also manufactured by large tooling manufacturer WILA (Holland) and American style (main system for USA and Canada).
Tang is very important point which means that you can't clamp on your press brake the tooling from other system. Moreover clamping systems itself, like Promecam have some internal modifications which means that the main geometry is the same but some sides could be angeled or with additional grooves.

Why this happen and there are different clamping systems on the market instead of universal one? This is good question without any final answer. We think there are several reasons:


  looking of developments to make precise clamping with the minimum tolerances and gaps.


  reasons to make more rigid system to follow high tonnages of the machine.


  differences of force distribution according to push of the head of tang or shoulders in the clamping area.


  necessities to work with long body tooling.


  protection of developments and market with the way that customer will be tied with the manufacturer because uses unique clamping system.


  development of pneumatic, hydraulic and other force control clamps.


  usage of double sides.


  historical absence of quality information and the necessity of in-house developments instead of following of present inventions.


  necessity for frontal loading of tooling, like Trumpf and LVD-W.

Together with the clamping part (tang) manufacturers offer their line of press brake tools which are not equal to other system. There are different main reasons to do it:


  manufacturer basically fabricates the machine with big opening and offers long tools in the base.


  other machine details require other configuration of tools.


  special or unique geometry is impossible to copy with the tooling of other clamping system which means the effective customer protection.


  usage of different materials, technology process, surface coating etc. i.e. usage of the possible technology which could be different in other country.


  ignorance to copy the geometry of tools for unification because of rationality. For example why to develop tools with other angles instead of 85 and 88 degrees which are mainly used.

There is small example. We had the customer which wants to copy the bending technology from the nearest friendly factory and fabricate the same products. He wants to purchase the same tonnage and main specifications press brake and the same geometry of tooling. Now he received the offers for Promecam tools but has a lot of doubts. Mainly we can ensure him with the normal work of tools with the checking of all parts and possibilities of bending. But in the same way probably some customers prefer to have exactly same geometry which means that or they need to install adaptors + tools like original ones or they need to go to the original manufacturer.

Now, press brake tool manufacturers and also our company offer adaptors to use to attach the Promecam (EURO) tooling to other clamping systems. This offer also eliminates the problem to find the company who produce very special tools or the press brake is really old and it is impossible to find the tools similar to original ones.
We suppose it is the best way to erase the clamping system differences but some disadvantages are still present as:


  to install adaptors you need to consider additional height for top and bottom which could be not enough if you do not have big opening press brake.


  additional investments for adaptors which could be not small if we will talk about not standard products (for example lover adapter for COLLY).

In general we can't tell that there are huge developments and changes in the market. But anyway every manufacturer tries to modify the product line and offer additional advantages. There could be varius solutions: lightweight tooling with holes in the body, surface coating, laser hardening for radius modification requests, click-systems etc.



Return back ❯❯❯