PRESS BRAKE TOOLS PRODUCTION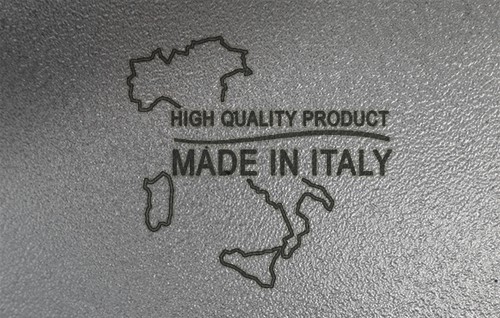 PRODUCTION INTRODUCTION
We can confirm that our press brake tools are manufactured with the use of professional CNC machine tools with high quality standards, Italian raw materials and highest precision and tolerance to be obtained for the long use of our products. "Made in Italy" similar to the best quality and today Italian press brake tools are one of the most powerful product which accepted in production in industries all over the world.

The big variety of standard pieces equal to competitor's products allows offering from us the different solution and geometry even with standard tools to perform the quality different bends even with complicated shape configurations. The reasonable and competitive price ranges including the seasonal discount offers allow to our customer to choose Italian origin tools even against the cheap Asian industrial production.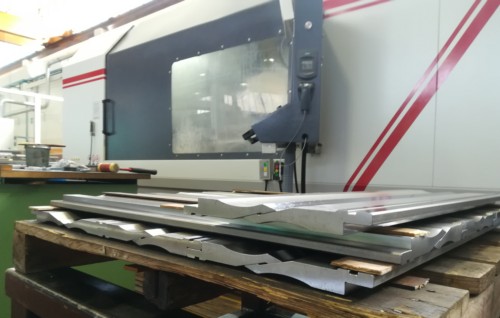 MATERIAL AND HARDENING
Our press brake tools are passed through induction hardening process to have the maximum protection and hardness on the working areas where the tool has the contact with part during the bending process. Standard declared hardness is 55-60 HRC. Depth is 3-4 mm. We use high quality local materials which fits the best metallurgical standards and conditions.

We offer 3 type of materials for used in press brake tools:


Economy standard – C45 material with internal resistance 650/680 N/mm2


Production standard – C45 or steel 1.2312 quenched material with internal resistance 800/850 N/mm2


Professional standard – Cr42Mo4 material with internal resistance 1000/1100 N/mm2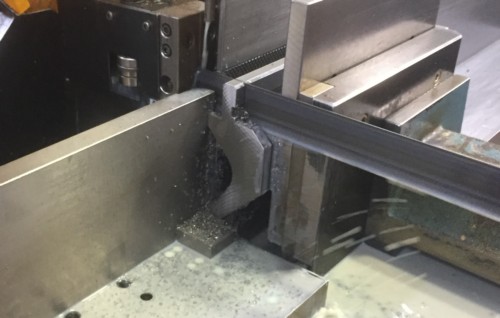 CUT TO LENGTH
Normally we offer the standard length of press brake tools:

  Promecam (Euro) style: 835 mm solid, 415 mm solid and 805 mm sectioned

  Trumpf-WILA style: 100 mm, 200 mm, 300 mm, 500 mm solid and 550 mm sectioned

  Beyeler-Bystronic style: 100 mm, 500 mm, 1000 mm solid and 1100 mm sectioned

  LVD style: 508 mm solid and 550 mm sectioned

  COLLY-AJIAL: 505 mm, 1020 mm solid and 1020, 1250 mm sectioned

Meanwhile we are open to discuss the individual length configuration to provide the special length pieces with customized cut to length as well as manufacturing of long length pieces up to 2000 mm or higher. Long configurations of 6000-8000 mm which are used in high tonnage applications are possible to offer as well.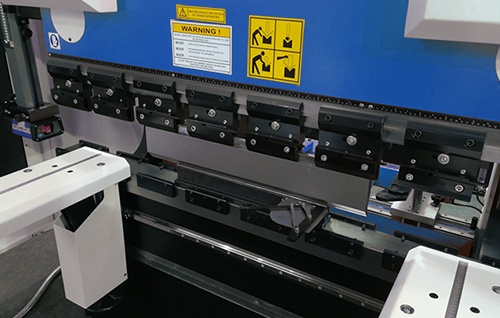 TO SUPPORT EVERY SINGLE PRESS BRAKE
There hundred of different trademarks of press brakes and a lot of press brake tools systems from worldwide used to very rare and uncommon. Our task is to follow every customer and to support any press brake from the start if the customer wants to purchase new machine and including the production cycle if the customer is looking to replace the old tooling or to buy new shapes for his new jobs. We are able to achieve it with the large variety of standard tooling and possibilities to offer adapter solutions to move from any tool system to, for example, economic and effective Promecam tools. We are trying to study precisely each project with maximum details and we hope that any of the customers will find the solution he is looking for. We are able also to study the complete situation with the tooling management in company where are different press brake tooling systems used to give the optimized principles with the universal use of purchased tools.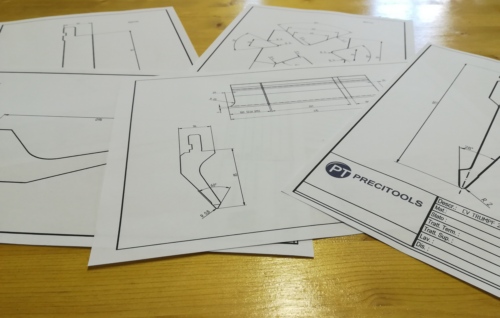 FROM IDEA TO PRODUCTION
During study of projects there are a lot of reasons why standard press brake tools are not enough to make the part. Sometimes it is enough to modify the radius, sometimes we need to offer tools with special length and sometimes it is necessary to prepare new geometry of tooling. Any project came from the idea but finally should be supplied as the complete working tool to realize the bend.
We are ready to provide any solutions according to our experience with the reasonable price and verification of possibility to bend with the software simulation. Any drawing could be verified and modified by the customer with choosing of the material. Besides the punches we can provide special Multi-V bending dies and individual adapters for your press brake.
We have various solutions for special bending tools for special forming, punching, flattening, deep bending etc.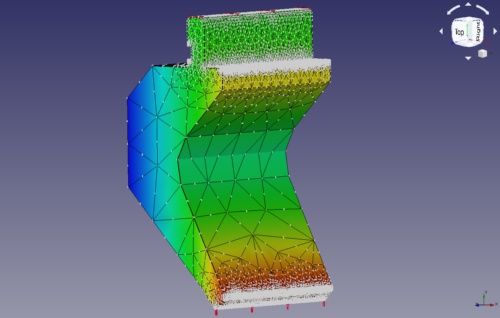 DEFORMATION AND STRESS STUDIES
If necessary, for standard and special application we carefully study the possibilities of our press brake tools to perform the operations and non troubles continuous work. In case of the requirements to provide the strong punches for the big forces we can develope the heavy tools with more material and elimination of sharp radius which could be risk for the wear.
During the design and developments we use special software and can perform the study of deformations in engineering FEM (Finite Element Method) analysis. So detailed studies could ensure us and the customer that the offered solution is completely acceptable for his job and we can control the specification loading for the tool of max. possible tonnage.
In very precise applications where any deformations tolerances are important, together with the independance engineers we can provide also the software simulations of the part according to evolution of the natural inside bending radius or part stresses itself.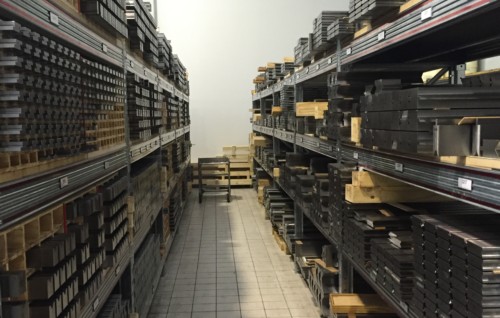 STOCK AND DELIVERIES
Thanks to the open borders of European community we can deliver any pieces with quickest delivery time and offer for our customers good conditions of "delivery to the door" in any European country.
The large storage of standard tools with location in Italy: Piacenza and Bologna allows us to be prepared for delivery in standard pieces in 2-3 days (24 hours pieces preparation is also discussible) to give to our customers the big advantages of minimum delays and time laps in production. All our tools are packed with wooden cases for high protection against any road damages during the transportation and our cooperation with leading Italian forwarders allows providing the fast delivery time to the customer. For example our forwarder has everyday transport to the Germany direction.
For press brake tools which are not standard in our catalog or with the modification of radius, angle, length etc. we normally can provide the readiness of the goods in 2 weeks.