We offer rich selection of standard press brake tools for Promecam (European) Style system. This system is usually installed on main European press brakes and 95% of press brakes with origin from Asia or Turkey. Promecam system is one of the most comfortable to use to follow low and medium tonnages with different variety of tooling for air bending.



Main manufacturers supported:


Press brake tools for machines: Accurl, ACL, Adira, AM Machinery, Amada, Astrida, Augusta, Axial, Baykal, Blecken, Boschert, Bystronic, Cematek, CMU, CoastOne, Colgar, Colly, Dener Makina, Deratech, Durma, Edward Pearson, Ermaksan, Euromac, Femas, Feysama, Fratelli Farina, GADE, Gasparini, Gecko, Gelber Bieger, Gilardi, Gizelis, Guifil, HACO (Atlantic), Harsle, Hammerle, Hesse, Hezinger, Hilalsan, IMAL, Inanlar, Ironmac, ITEK, Jean Perrot, JFMI, JMT USA, Jordi, Jouanel, KAAST, Karmet, Kingsland, Knuth, Kruman, LoirSafe, Mebusa, Mecos, MVD INAN, Nargesa, OMAG, Peliant, Probend, Rico, RMT, Salvagnini, Schiavi, Schroder, SMD, STR, Tabama, Teda, TCI Cutting, UZMA, Vartek, Vicla, Vimercati, Warcom, Yangli, YSD etc.
Press brakes with other tooling systems could work with Promecam dies if support flat bottom tools and for punches - through clamping adapters.



Construction of holder:


For punch: tang 13 x 30 mm with groove: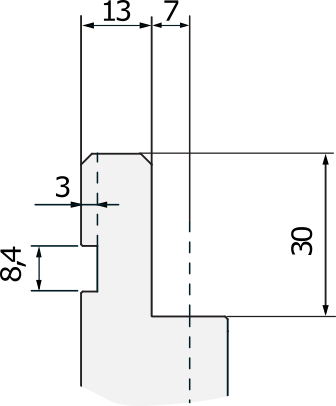 Flat dies with bottom 60 mm
Modification of holders for punches and dies available under request.



Standard lengths:



For punches:

415 mm solid



835 mm solid



805 mm sectioned (Section lengths: Horn L 100 mm + 10 mm + 15 mm + 20 mm + 40 mm + 50 mm + 200 mm + 270 mm + Horn R 100 mm). Horns are general with R25



For dies:

415 mm solid



835 mm solid



805 mm sectioned (Section lengths: 100 mm + 10 mm + 15 mm + 20 mm + 40 mm + 50 mm + 200 mm + 370 mm)




Other lengths could be supplied under request. Solid pieces more than 835 mm are also available to supply but normally there is no necessary to use.



Material used:


C45 or C45 quenched, several punches produced with 42CrMo4. 42CrMo4 standard punches could be also requested but should be considered as special tooling.



Different radius production:


Withing hardened area of punch the radius could be modified for small additional price.