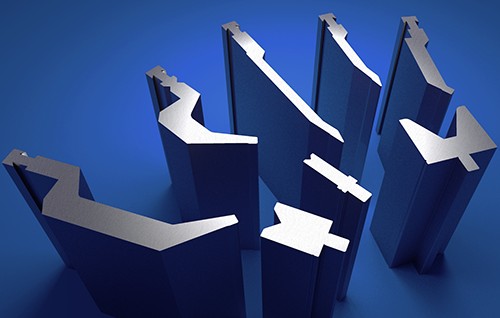 BEYELER-BYSTRONIC SYSTEM
Press brake tools for machines: Bystronic-Beyeler (Euro-A, RF-A, R, S), Edwards Pearson, Safan, Bystronic, Beyeler etc.
We supply solid pieces 100, 500, 1000 mm; section set (cutted) 1100 mm and complete sets for the full length of your press brake.
Dies could be used with Trumpf-WILA system.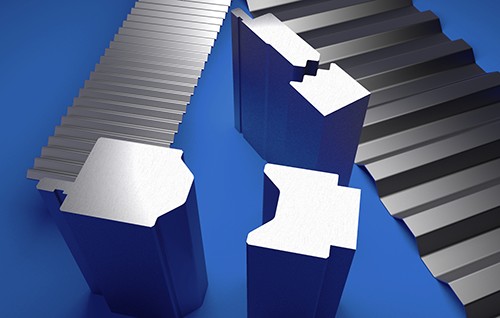 SPECIAL PRESS BRAKE TOOLS AND SPECIAL APPLICATIONS
Special tools for customized applications and parts including forming, several bends in one stroke, controlled deformation, coining and stamping etc. The special press brake tools could be supplied for any press brake and system. We can also deliver as specials press brake tools for American style tools, LVD system, COLLY system, HACO system and many others.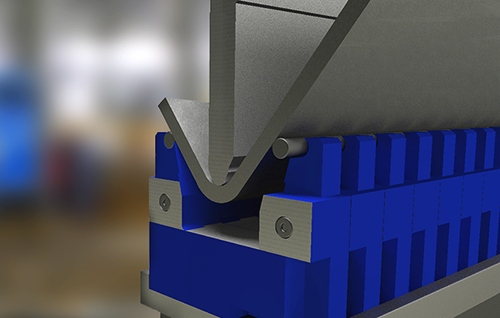 ADJUSTABLE PRESS BRAKE DIES VLM
Special patented adjustable dies with the exclusive system to change die opening during use. These dies are the best solution to use if to work with big thickness applications, high forces for HD (Heavy Duty) machines and tandem press brakes. Adjustable dies allow to replace the necessity of several heavy and big opening standard dies and moreover change V-opening direcly on the machine with saving of time together with productivity increase.
Models available: V25-125; V65-180; V120-300; V150-400.
In addition there are options of semi-automatic and automatic adjustment system.