PRESS BRAKE TOOLS SYSTEMS AND TYPES
For most general standard positions and special stocks for press brake tools we are making the special prices to be more competitive with our products. To get actual season offers and the best prices on the market please proceed with our offer pages. Standard sets could be quickly delivered in 3-4 days and transport daily service to the most European countries.



SEASON OFFERS ❯❯❯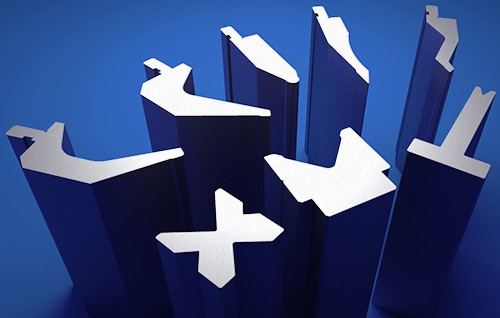 PROMECAM (EURO) SYSTEM
Press brake tools for machines: Accurl, ACL, Adira, AM Machinery, Amada, Astrida, Augusta, Axial, Baykal, Blecken, Boschert, Bystronic, Cematek, CMU, CoastOne, Colgar, Colly, Dener Makina, Deratech, Durma, Edward Pearson, Ermaksan, Euromac, Femas, Feysama, Fratelli Farina, GADE, Gasparini, Gecko, Gelber Bieger, Gilardi, Gizelis, Guifil, HACO (Atlantic), Harsle, Hammerle, Hesse, Hezinger, Hilalsan, IMAL, Inanlar, Ironmac, ITEK, Jean Perrot, JFMI, JMT USA, Jordi, Jouanel, KAAST, Karmet, Kingsland, Knuth, Kruman, LoirSafe, Mebusa, Mecos, MVD INAN, Nargesa, OMAG, Peliant, Probend, Rico, RMT, Salvagnini, Schiavi, Schroder, SMD, STR, Tabama, Teda, TCI Cutting, UZMA, Vartek, Vicla, Vimercati, Warcom, Yangli, YSD etc.
We supply solid pieces 415, 835 mm; section set (cutted) 805 mm and complete sets for the full length of your press brake.



READ MORE ❯❯❯

OPEN E-CATALOG ❯❯❯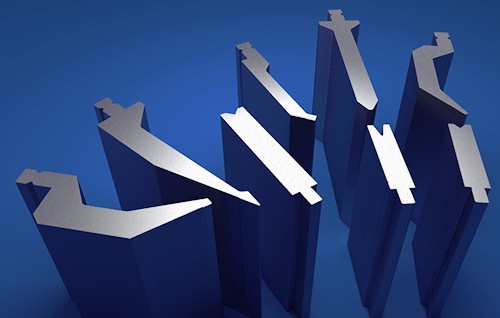 TRUMPF-WILA SYSTEM
Press brake tools for machines: Amada (AMTS type), Bystronic-Hammerle, Durma, EHT, Finn-Power, Jordi, Gizelis, LVD, Trumpf, Prima Power, RICO PRCN, Safan-Darley, STR, Ursviken etc.
We supply solid pieces 100, 200, 300, 500 mm; section set (cutted) 550 mm and complete sets for the full length of your press brake according to the customized pieces or the same as original tooling.
For TRUMPF-WILA press brake tools we can offer 100% compatible tools as original.
Dies could be used with Beyeler-Bystronic system.



READ MORE ❯❯❯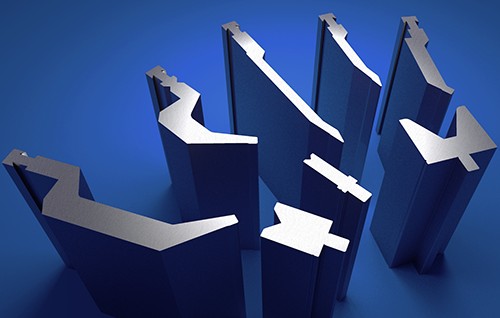 BEYELER-BYSTRONIC SYSTEM
Press brake tools for machines: Bystronic-Beyeler (Euro-A, RF-A, R, S), Edwards Pearson, Safan, Bystronic, Beyeler etc.
We supply solid pieces 100, 500, 1000 mm; section set (cutted) 1100 mm and complete sets for the full length of your press brake.
Dies could be used with Trumpf-WILA system.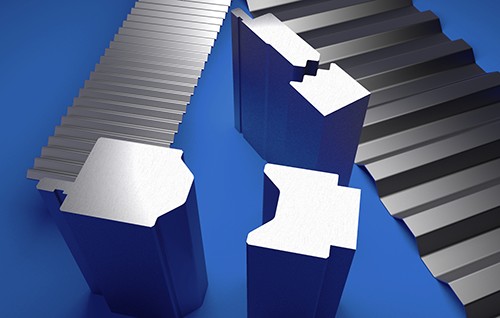 SPECIAL PRESS BRAKE TOOLS AND SPECIAL APPLICATIONS
Special tools for customized applications and parts including forming, several bends in one stroke, Z- or zigzag bending, controlled deformation, coining and stamping etc. The special press brake tools could be supplied for any press brake and system. We can also deliver as specials press brake tools for American style tools, LVD system, EHT, Weinbrenner, Hammerle 3P and standards, COLLY-AJIAL system, HACO system and many others.
Moreover sometimes not only bending process is required to. We are able to study the projects to use the press brake also for the punching operations with the special tooling, for example to form the louvers, punching holes with the special units, to add special formings as logo or symbols etc.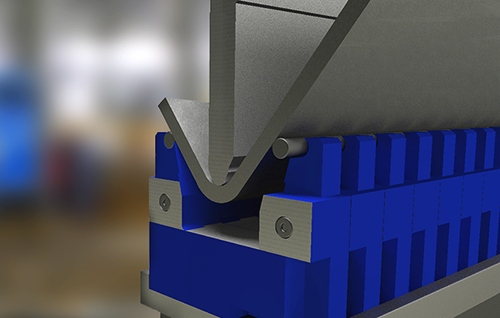 ADJUSTABLE PRESS BRAKE DIES VLM
Special patented adjustable dies with the exclusive system to change die opening during use. These dies are the best solution to use if to work with big thickness applications, high forces for HD (Heavy Duty) machines and tandem press brakes. Adjustable dies allow to replace the necessity of several heavy and big opening standard dies and moreover change V-opening direcly on the machine with saving of time together with productivity increase.
Models available: V25-125; V65-180; V120-300; V150-400.
In addition there are options of semi-automatic and automatic adjustment system.
PRESS BRAKE ACCESSORIES
Together with the press brake tooling we are able to supply additional units for sheet metal production shops and press brake daily operation such as manual tooling mor measurement (angles, radius etc.), press brake bending film, storage cabinets, various holders, supports and adapters for different systems of press brakes to change from one to another.
we believe that we can support the customer not only with press brake tooling but with any additional products that press brake operator could need. For conventional press brakes we are able also to offer the frontal support arms for sheet metal. Please contact with us with more information about your request.



READ MORE ❯❯❯