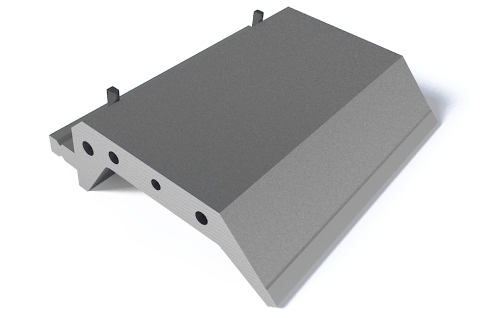 Reduced weight punches:
For Trumpf / Wila / LVD type punches with the use of buttons weight is important because buttons could be installed only for pieces lighter than 13,5 kg. If the customer requested bigger sections or big height punches with buttons and works only with thin thickness material, the additional milling / drilling could be done to remove the material and make the total weight of punch ligher than standard.
This could also helps a lot for the operator if he needs to reinstall big and heavy sections of punches as daily work procedure because it is quite hard for physically handle of heavy tools. It could be also the solution for production factories which are looking for automatic or semi-automatic solutions for changes of tools because of the weight. Because additional removal of the material effects the original geometry, punch resistance also is lower than nominal so the recommendations to request this only with the working with thin materials with air bending.
Compare to standard tools, reduced weight punches will also extend the duration of use of the full press brake construction including the upper holder thanks for the reduction of all main forces.
Dies with reduced weight could be also done under the customer request to help the operator to remove the handling of heavy weights during the daily production.