PRESS BRAKE TOOLS MANAGEMENT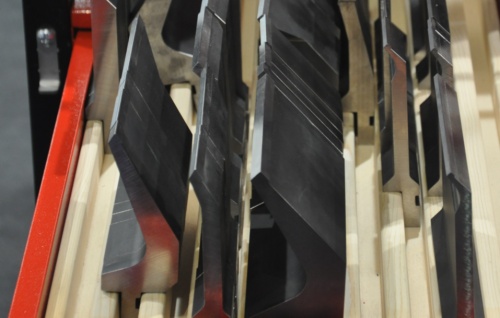 Normally, there are no any recommendations for storage of press brake tools. Just not to hit one to other and keep separate if possible. If you wish to make your tool storage bore effective you can order the special storaging box for your bending tools. The advantage that together with the marking at some place of box you can identify quickly the tool specification or for what part or press brake machine it belongs to.

Other thing is to make your tool order management more effective and in this case we would like to provide some recommendations:


  If you have several press brakes you should look forward for unification i.e. possibility to use the same tool on every machine. If you have press brakes with different tool clamping you can think about the adapters.


  Sometime companies copy the technology and tools configuration from the other production company. There is no answer is it the best solution already so before order of same tools make request to your press brake tools supplier about comments.


  Follow the most general common geometries of tools to cover the maximum quantity and configuration of produced parts.


  Do not believe to one offer. Producers of tools and press brake machines are looking forward to offer specialized configurations without the possibility to find exactly configuration replacement on the market. Maybe you could change radius, angle or shape in your request and will find more effective solution.


  Plan in advance. If you plan to purchase special tools you need to count 6-8 weeks normally for any manufacturer. So in case that you know your order earlier is better. Moreover the same story with press brake tools to be not in hurry and not to look for unique supplier who will supply all in 1 day after.


  Discuss the tool order with engineering department. Sometimes some part details like radius could be not really important to follow but could effect the tool price.


  Verify the production quantities. For example we had the request where parts require big and expensive tools. In case that you know the production program and see reasonable to eliminate such parts from production you can get additional tool economy and other parts just order in the nearest factory. It is reasonable if you have small quantities of such complicated parts.


  Do not afraid to purchase press brake tools outside the library in CNC. Every manufacturer will provide to you DXF for import.


  Discuss the part production with bending tools supplier even if you are talking of new machine. Otherwise you have risk to get necessary tools more expensive or something will be just waste of money because of no need.


  If you look for used press brake tools the reasonable offer is only if tools are really in normal condition and very cheap or very specialized. Otherwise it is better to buy new tools and to be sure about the quality.


  It is better if the purchasing decisions are connected with operator. Normally he is the person who operates press brake in daily basis and can clarify some details.


  Do you have possibility to run 3D simulations of bending at your R&D office? Try the offered tools in simulation before purchase to verify the possibilities one more time.


  If you deal with low and high tonnage applications all the tools should be carefully divided with the warnings of use. Mistakes could cost for you new tools or other problems.


  Connection of engineering department who develop the drawings with the information of available tools allow to understand the possibilities before issues of official drawings.


  If possible exclude the necessity to use tools with special length because it will make tools more expensive. In general all customers would like to save some costs.


  If the bending production is big with several press brakes it is reasonable to have the data of tooling flow at the office of production manager to get the information about tooling life and which tools are more required for all press brakes.


  Press brake tooling could be regrinded. It means the restoration of tools with the elimination of defects. Regrinding is the hard procedure which is available only from several manufacturers of press brake tools and moreover manufacturers normally do not want to deal with tooling from other manufacturers. If you wish to regrind the tools start the procedure to search the service provider in advance. We do not do regrinding. The reason is that also sometimes transport costs could be equal to the more than 50% of costs of new bending tooling.


  Under our experience on the market - if you request special long tools with 500-600 mm and higher we doubt that these bending tools will be tested before delivery. It means that all the details of tools are theoretical and you need to be sure not to use 100% loading which is risk to break the tooling.

Finally, normal storage culture makes the normal and quick tools identification. But the management can harm or make more effective the general production, just imagine that you have the same tool for both press brakes and it is required by 2 operators in one time and finally, second operator will just wait when other will finish the job. It is not necessary to make the stock positions you will need not earlier than half of the year but do the best to have all necessary positions in time your operators will need them. Stop of job because of absence of bending tools is the very sad fault for everybody.



Return back ❯❯❯